Welcome back for the next installment of our Top 100 Guitarists and Their Guitars. Today we explore guitarists 61 through 70 on our list. Let's see if your favorite guitarists is on this list. If you've missed the previous posts you can check them out here:
Top 100 Guitarists and Their Guitars (71-80)
Top 100 Guitarists and Their Guitars (81-90)
Top 100 Guitarists and Their Guitars (91-100)
70. Robby Krieger (The Doors)
An American guitarist by the name of Robert Alan Krieger. He was the Doors' first guitarist, making him eligible for induction into the Rock & Roll Hall of Fame. Many of the Doors' songs, including the classics "Light My Fire," "Love Me Two Times," "Touch Me," and "Love Her Madly," were written by Krieger or with whom he collaborated.
Guitar Maker of Choice: Gibson
69. George Benson
An American guitarist, singer, and songwriter by the name of George Washington Benson. He started out as a jazz guitarist when he was 19 years old. Benson, a former child prodigy, originally rose to fame performing soul jazz with Jack McDuff and others in the 1960s.
Guitar Maker of Choice: Ibanez
68. Dick Dale
Dick Dale, a stage name for Richard Anthony Monsour, was an American rock guitarist. He was a forerunner of surf music, integrating Middle Eastern music and reverb into his compositions. As the title of his second studio album indicates, Dale was referred to as "The King of the Surf Guitar."
Guitar Maker of Choice: Fender
67. Terry Kath (Chicago)
American guitarist, vocalist, and songwriter Terry Alan Kath is best known for being a founding member of the rock group Chicago. On many of the band's early smash tunes, he both played guitar and sang lead vocals.
Guitar Maker of Choice: Fender
66. Robert Fripp (King Crimson)
In addition to being a musician, songwriter, and record producer from the United Kingdom, Robert Fripp is most known for being the guitarist, founding member, and longest-serving member of the progressive rock group King Crimson.
Guitar Maker of Choice: Gibson
65. Pat Metheny (Pat Metheny Group)
https://quotepark.com/media/authors/20538_pat-metheny.jpeg
American jazz guitarist and composer Patrick Bruce Metheny is from America. In addition to leading the Pat Metheny Group, he takes part in duets, solo ventures, and various side projects. His music combines aspects of latin jazz, jazz fusion, and modern and progressive jazz.
Guitar Maker of Choice: Gibson
64. John Frusciante (Red Hot Chili Peppers)
American musician John Anthony Frusciante is most known for his three stints as the Red Hot Chili Peppers' guitarist. He has 11 solo albums and 7 EPs under his own name, with genres spanning from electronic music to acoustic guitar.
Guitar Maker of Choice: Fender
63. Ry Cooder
Ryland Peter Cooder is an American musician, songwriter, record producer, and writer. He also composes music for movies. Although he is a multi-instrumentalist, his slide guitar work, interest in traditional music, and partnerships with traditional musicians from many nations are what make him most well-known.
Guitar Maker of Choice: Fender, Gretsch
62. Kirk Hammett (Metallica)
Since 1983, American musician Kirk Lee Hammett has played lead guitar and written songs with the heavy metal band Metallica. He founded the band Exodus and gave it the name before joining Metallica. On Rolling Stone's list of the 100 greatest guitarists of all time in 2003, Hammett came in at number 11.
Guitar Maker of Choice: ESP LTD
61. Yngwie Malmsteen
Swedish guitarist Yngwie Johan Malmsteen plays guitar. He first gained popularity in the 1980s for his neoclassical heavy metal skills, and over the course of a career spanning more than 40 years, he has recorded 22 studio albums. Malmsteen was ranked ninth among the top electric guitar players in history by Time magazine in 2009.
Guitar Maker of Choice: Fender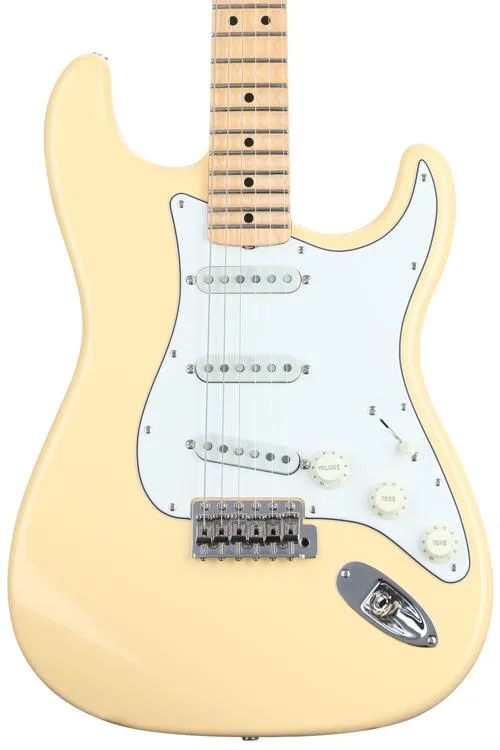 We're almost there! In the next few weeks, we'll be adding more to our series on the top 100 guitarists and their guitar. If you want to be the first to know when new posts are up, make sure to subscribe so you can get notified. In the meantime, let us know who your favorite guitarist is in the comments below – we'd love to hear from you!
There you have it. Following the Top 100 Guitarists and their Guitars. I hope you enjoyed learning about what axes your favorite guitar players use. Come back for the rest of our list. If you missed the other articles you can check them out here:
Top 100 Guitarists and Their Guitars (71-80)
Top 100 Guitarists and Their Guitars (81-90)
Top 100 Guitarists and Their Guitars (91-100)